Make The Most Out of Your Business Phone Number and Click-to-Call Software
More than 80% of people using the internet have smartphones. Google reports that 70% of their mobile users call businesses directly from their phones. This means that adding a phone number to your marketing efforts can make a huge difference. Here are a few ways your business can benefit from using a phone number.
PPC Campaigns
You can use call extensions to compliment your PPC Adwords campaigns. In fact, call extensions increase the click-through rate by 8%. Adding call extensions don't cost you anything and if someone makes a call, you will pay the same price as you would for a click. But wait! It gets even better. Compared to clicks, calls have much higher conversion rates. In some industries conversion rates can be as high as 40%. If you are not including your call extensions, you are missing out.
Your Website
You might think that having a phone number on your website is just common sense. We are talking about including your phone number on EVERY page, especially on your mobile site. Your customers probably browse a few pages before they make the decision to call. You want to give them the convenience to call from any page they might be on when they decide to call. When your customer is on their phone it's very difficult to fill out a tiny web form, but it's very easy to click a phone button.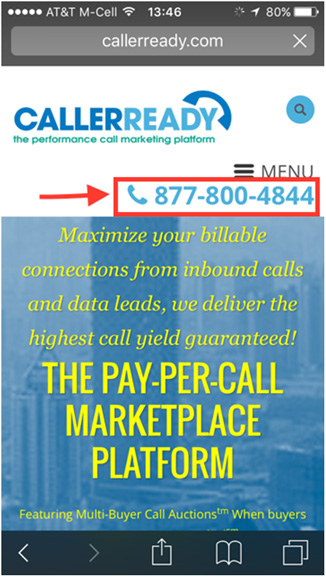 Social Media Accounts
Facebook offers an option to create your own call to action button. You can choose options such as sign-up and send email, but these will be difficult for mobile users to execute. Nearly half of Facebook users only access their accounts from their phones. Again, filling out a form or sending an email can turn people away from trying to contact you.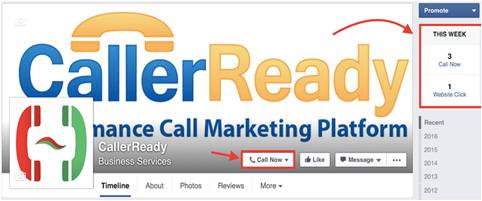 Click-to-Call Software
Whether you rely on PPC, pay-per-call, or just organic leads, you should give your customers an option to call you. Your business will also benefit from a click-to-call software that will help you turn these hot leads into customers. CallerReady can help you every step of the way – from qualifying your calls, to routing them to the right agents, and providing the tools to execute timely follow-ups. A click to call software can add a tremendous value to your marketing campaigns. Give your calls a chance and make CallerReady your call marketing platform.