CallerReady ensures your calls are routed to the right place at the right time.  Are you ready?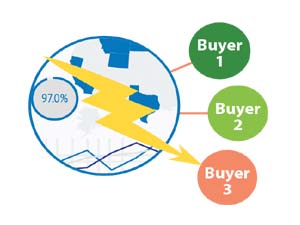 Distribute calls based on your desired distribution rules. If you need it, it can be done easily. Award calls based on rules , availability, concurrency limits, office hours, daily call caps, round-robin, skills-based, priority based, and on performance.
With our patent pending Multi-Buyer Competitive Call Distribution technology, we place agents/call buyers in competition to receive the call.  When Buyers compete, everyone wins!  Faster connections lead to happier and more profitable calls.
Dynamic Call Routing API
CallerReady developed the world's first truly dynamic call routing API.  When an inbound call comes in, CallerReady can qualify the lead with an IVR and send your agent or call buyer database information about the call, you send us back who you want that call to be offered to and any desired prioritization, CallerReady then proceeds to run the call competition and distribute the call.  This all happens amazingly fast, within milliseconds. And with CompleteTrackability℠ we then inform your system who was awarded the call, whether it met the qualification duration, we provide a link to the recording, and we communicate back upstream to attribute the qualified phone call conversion to the media, publisher or click responsible for driving the sales conversion, e.g. send the phone conversion information back upstream to Google AdWords.
Additional Services and Features:
Provision Telephone Numbers and customize campaigns with Custom IVR, tracking codes, call routing instructions and CRM exports
Award each call to the best available salesperson with BestRepFinder℠, our prioritized call distributor with agent availability awareness
Notify Stakeholders in your CRM and beyond with award emails, call summary emails, SMS and Pixel Fire Notifications to your affiliate management platform, Google Analytics, Facebook, and more
Qualify and Distribute: route the call exactly how you want it with Geographic routing, Custom IVR routing, and Prioritized distribution
Never Miss A Call: answer the phone quickly 24/7 with integrated After Hours, Overflow, Schedule IVR℠, and Queued Automated Callback the next day