Pay-Per-Call Marketing – Who Needs it and Why It's Worth it
Pay Per Call is crucial for small, medium, and big business. Business owners say that calls are better and more qualified leads than those coming from filling out a form online. People often browse the internet without the intention to buy. However, if they pick up the phone and make a call, they probably are ready to buy right at this moment.
Who Needs Pay Per Call Marketing?
Pay per call is especially important for industries where customers need personal and/or immediate help such as when they are looking for car insurance or medical advice. In these cases people don't have the time to fill out forms and wait hours or days to be contacted. For this reason, it's very important to add a phone number to your ads and web pages. Ads with call extensions have 8% higher click-through rate than ads without a phone number. Pay per call marketing helps you promote your businesses along with your phone number.
Is Pay Per Call Marketing Worth It?
Businesses will receive more than 60 billion calls this year. These are placed by people who are ready to spend their money immediately. While pay per click has a conversion rates of about 2%, pay per call can have 10x the conversion rate. At the end of the day you get more for your advertising money than when you pay for cheap but low converting clicks.
Pay-Per-Call Network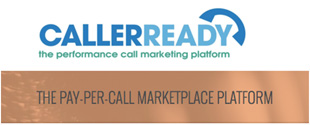 To make the most out of your pay per call marketing efforts you need a good pay per call network to help facilitate your calls. The last thing you want is to spend money on good leads and loose them because of technical issues. CallerReayd can help you qualify, route, and track your phone calls in order to maximize your sales. When pay per call is your strategy, make CallerReady your pay per call platform. See our pay per call tools here.