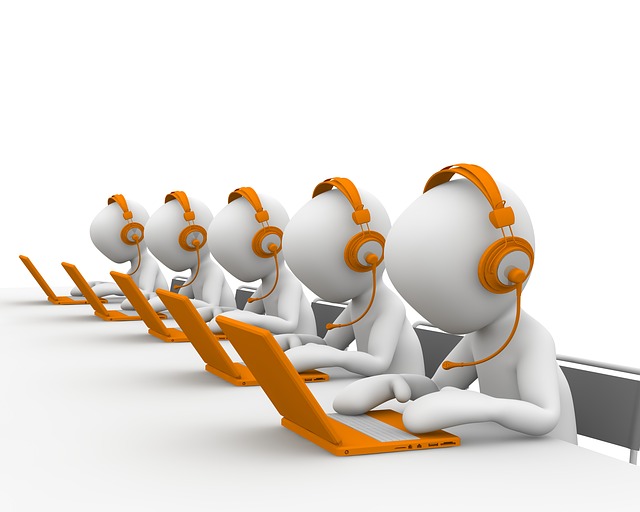 Is a centralized physical location where multiple phone agents are available to handle inbound and outbound customer calls for a business. Usually, a call center will use a variety of software and technology to automate certain process such as an IVR system and also rely on CRM software to enhance the customer experience and provide their agents with targeted selling tools. A call center is generally equipped and staffed to handle a large volume of phone calls and at times can be virtually integrated with other call center facilities in different geographical areas.
What Type of Businesses Use Call Centers?
Most commonly, call centers are used for help desks, customer service, sales and marketing.
Help Desk
Many organizations have call centers for product support or technical assistance. Agents are trained to a high level of expertise to assist callers in using or troubleshooting their equipment or software. Helpdesk contact centers are most frequently used within the consumer electronics and telecommunications industry.
Customer Service
Customer service call centers are very popular for a wide variety of industries such as the banking, insurance and utility sector. Agents are trained to answer frequently asked customer questions relating to billing, their account, and services provided. It is also common for customer service call centers to have a customer retention team in place, which is a group of experienced and specialized agents that implement retention strategies for customers that are unhappy or may wish to cancel service.
Sales
Many contact centers are also designed for sales and marketing initiatives. Some are based on cold calling and telemarketing while others use submitted lead forms or engage in live chat to reach customers.
What Technology Do Call Centers Use?
Call centers use a wide range of technology to handle inbound and outbound calls, route customers accordingly and qualify callers prior to being transferred to an agent. Some of the most common features used by call centers are IVR's, Automatic Call Distributors and Call Routers.
IVR
IVR is a technology that allows an automated computer system to interact, qualify and route customers to the appropriate queue or agent. It can be used either as a touch-tone keypad selection, intelligent voice input or a combination of both. Pre-recorded automated responses are served when a certain option is selected and the system will access the relevant information being requested by a caller and will deliver to a live agent for handling when appropriate.
Routing
Is a strategy that assigns and distributes incoming calls to agents based on their skillset, location, language, and availability. Routing enables businesses to optimize their staffing resources and reduce costs by utilizing each contact center agent as efficiently as possible. Call center routing ensures that calls are delivered to an available agent rather than the caller waiting on hold for lengthy periods of time or being sent to voicemail. Proper call routing helps increase conversion rates by connecting customers with agents that have the proper skills to solve their need and deliver a fantastic customer experience.
Customer Relationship Management Software
Can be combined with an IVR or automated call dialers to allow business managers to monitor agent activity, evaluate performance, service levels and workflow. Call Center Customer Relationship Management software, referred to as CRM helps agents access information on a customer's history and improve the overall call experience. CRM software is generally a desktop application that integrates with existing telephony solutions. A major benefit of using call center software is that agents can access knowledge and information in real-time to deliver correct details and improved service to customers throughout their phone calls.
Call Recording Technology
Call recording software tracks and records conversations from your call center. The recordings can be used to monitor agent performance, used for training purposes and ensure the quality of service being delivered. Call recordings help improve business tactics, drive the right conversations and coach associates on how to close more sales. Most software has a dashboard platform where calls can be listened to, categorized, downloaded and emailed.
What are the Staffing Roles in a Call Center?
Call centers are comprised of similar roles and reporting structures based on a call center manager, supervisors, coaches, trainers and call center agents. There is usually also human resource staff and operations management. Generally, the size of the call center will determine the number of team leaders and senior managers in addition to general administrative support roles.
Common Call Center Measurement Metrics
Call centers use a variety of Key Performance Indicators and metrics to monitor agents performance and the level of service that they provide to customers. The most common metrics include:
First Call Resolution
This measures how many times a customer needs to call a business in order to have their issue resolved.
Service Level
This metric is generated by the ACD technology and reports the percentage of calls which are answered within a particular time frame. Every call center has a service level target and a common one is that 80% of calls are answered within 20 seconds or less.
Average Handle Time
This metric measures overall agent efficiency. It includes the time spent on a phone call, time a customer was placed on hold and time spent after a call to perform any tasks required to complete the customer request.
Revenue and Conversion
Since many call centers are sales or revenue based, this metric measures the amount of customers that convert into a sale from calling or the number of successful up-sells that an agent has promoted to existing customers.
Utilisation
This metric measures the amount of time that agents are available and ready to take a phone call. Some call centers measure it as a percentage and others by hours per day.